STAND FOR JUSTICE
IN SUPPORT OF BLACK LIVES
Stand for Justice is a fundraising effort within the virtual world Second Life dedicated to raising funds for the charities Black Lives Matter, Black Visions Collective, Campaign Zero, the National Police Accountability Project, and a Split Bail Fund benefitting a growing list of bail funds nationwide.

The fundraiser began at 12pm Noon SLT on Friday, June 5th, 2020, and ended June 30th at 12pm Noon SLT.
---
THE CHARITIES
N.B. By the time of the donation, Black Visions Collective ceased accepting donations, so their portion was instead donated to the National Institute for Criminal Justice Reform
---
THE EVENT INWORLD
EVENT TOUR
BY CELENA TROYE
---
HOW ELSE CAN I HELP?
---
WE SUPPORT
WE WILL BE HEARD - BLACK LIVES AWARENESS EVENT
The WWBH event is a fundraising and educational response inside Second Life to the murder of Black people in the U.S. This week-long event to be held on July 4-11, 2020, will include Poetry Slam, Panel Discussions, Activist Artwork, Photography Exhibits, Music and Dance Tributes, Movie Screenings, and a Creator Fair to support the cause. Contact Roshambo Dench for more info.
---
WALLS OF FREEDOM - ONGOING ART BUILD
"This is an ongoing build based on my thoughts of where fiction meets nonfiction, or is it where nonfiction meets fiction?"
Walls of Freedom is based on the book of the same name portraying the first three years of the Egyptian revolution that began on January 25, 2011, told through striking images of art that transformed Egypt's walls into a visual testimony of bravery and resistance. For more information, visit Walls of Freedom inworld by following the SLURL below.
---
THE BLACK EXCELLENCE PROJECT
The Black Excellence Project is an awareness agenda founded in Second Life. It was created to equip users with the tools needed in order to become (and/or remain) active members of their first and second life central communities.
We discuss, encourage, and implement advancement opportunities for African-Americans.

We encourage voting by educating others of the US voting process, keeping each other abreast with voter's rights, new laws, and any potential changes within our democracy that affect the African American population the most.

We teach general civics with a focus on our nation's constitution, and the working order of our government and judicial system.

We learn in peer-led presentations, real world skills that contribute to excellence [business start-up information, resume building, prison record expunging, grant information, college information, and more.
---
TRANSPARENCY
LAST UPDATED ON 16 JULY 2020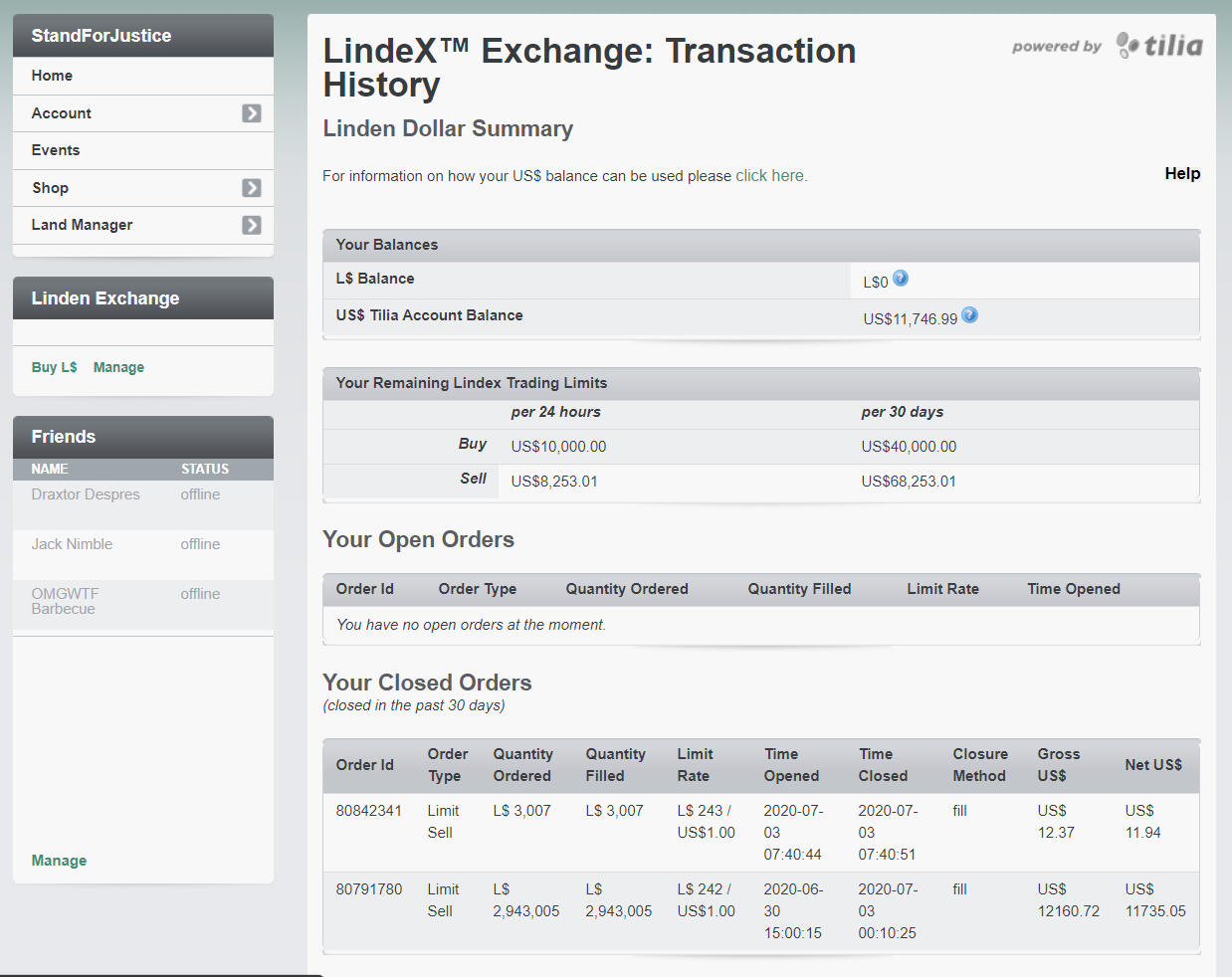 (Linden Exchange selling orders as of 3 July 2020)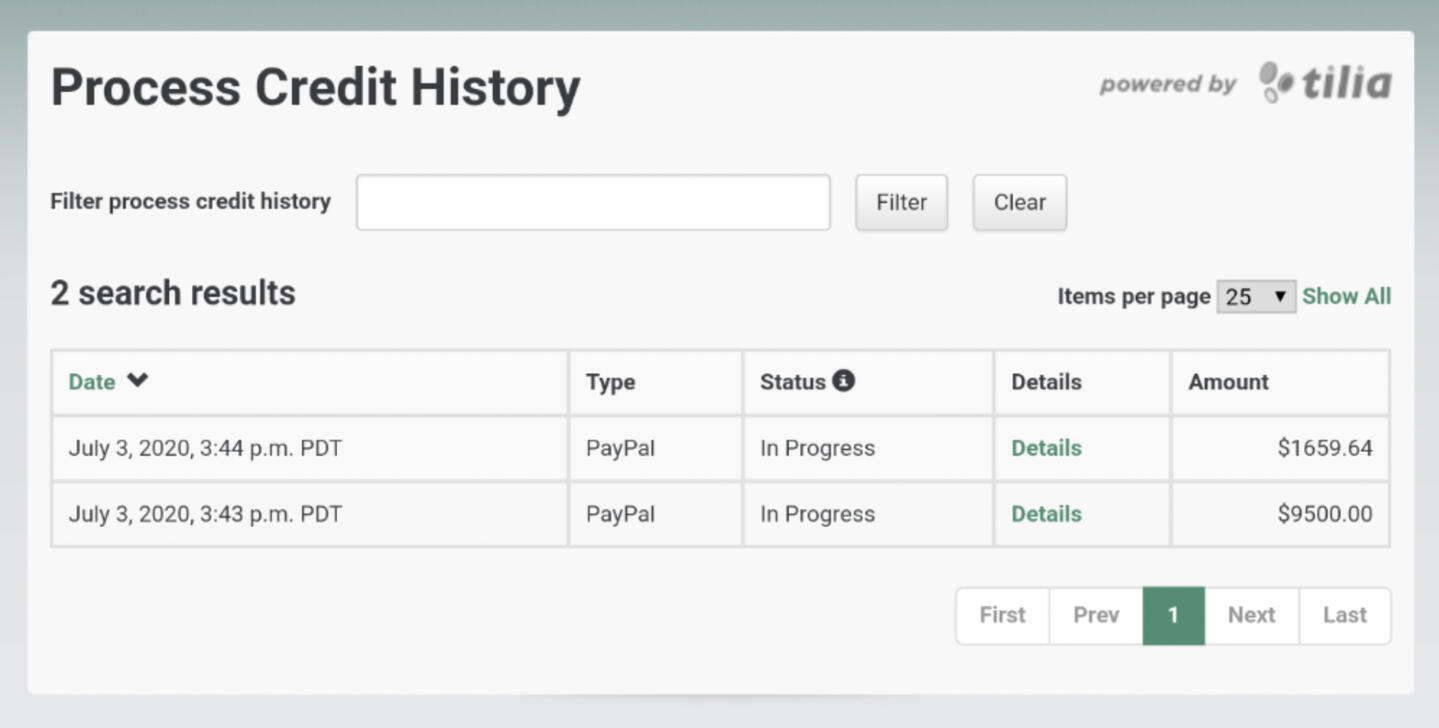 (Process Credit requests made 3 July 2020, pending approval)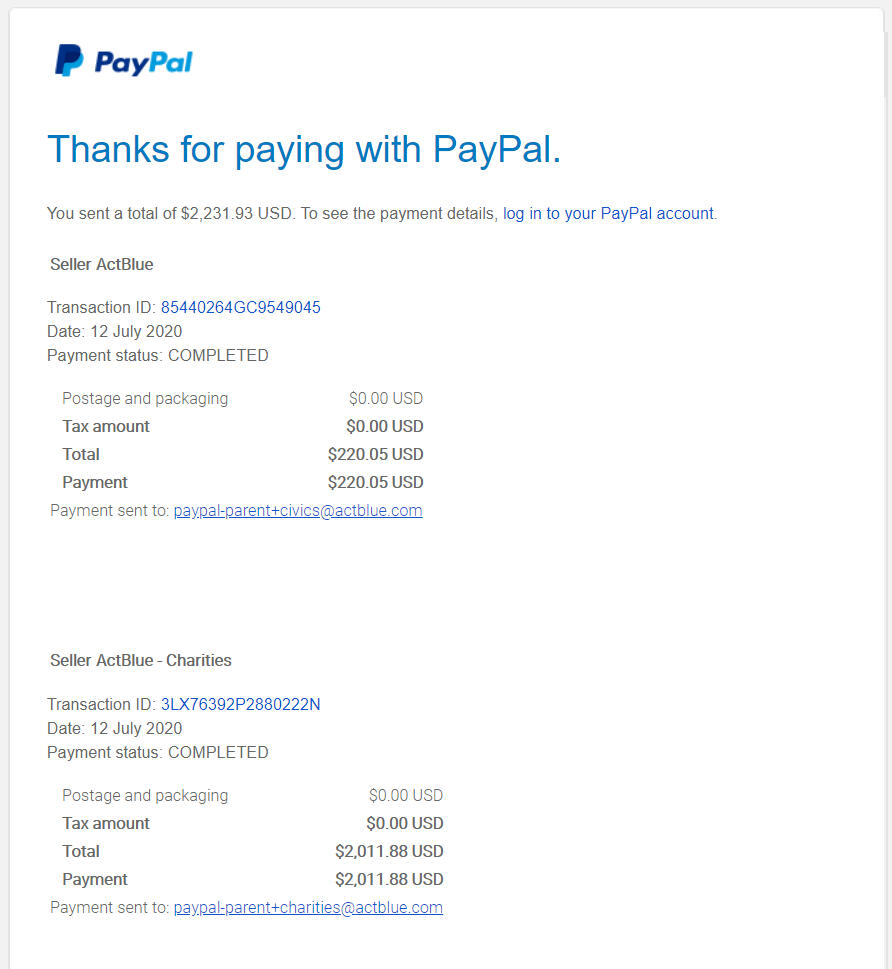 (Split Bail Fund donation made 12 July 2020)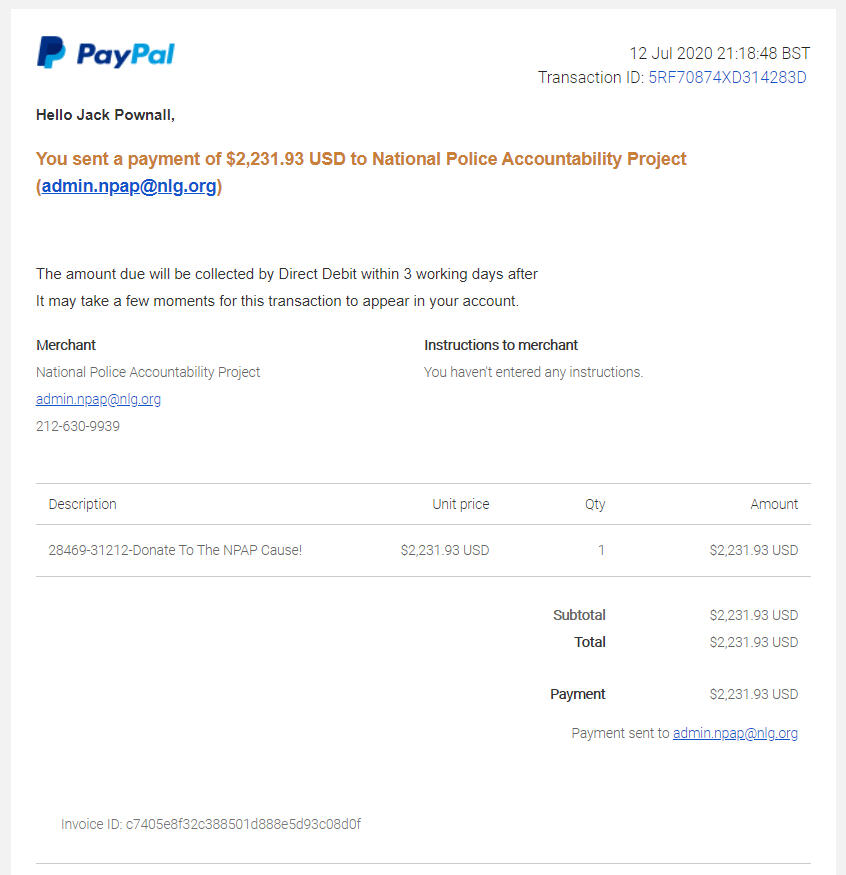 (National Police Accountability Fund donation made 12 July 2020)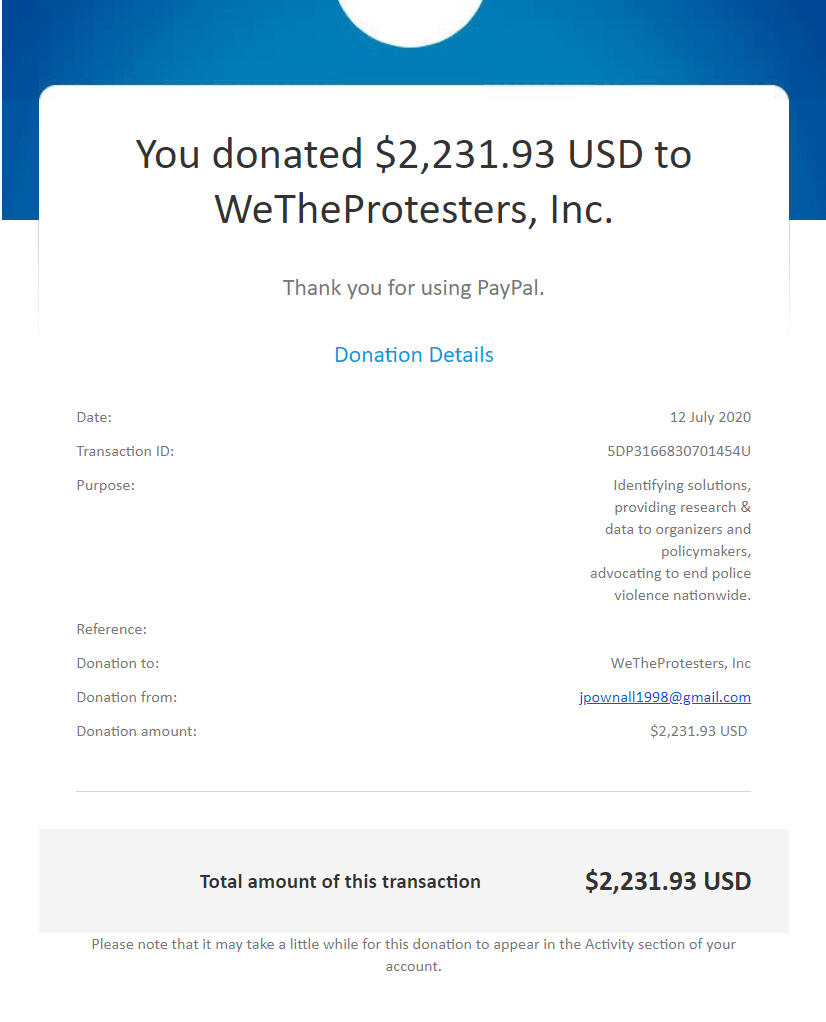 (Campaign Zero donation made 12 July 2020)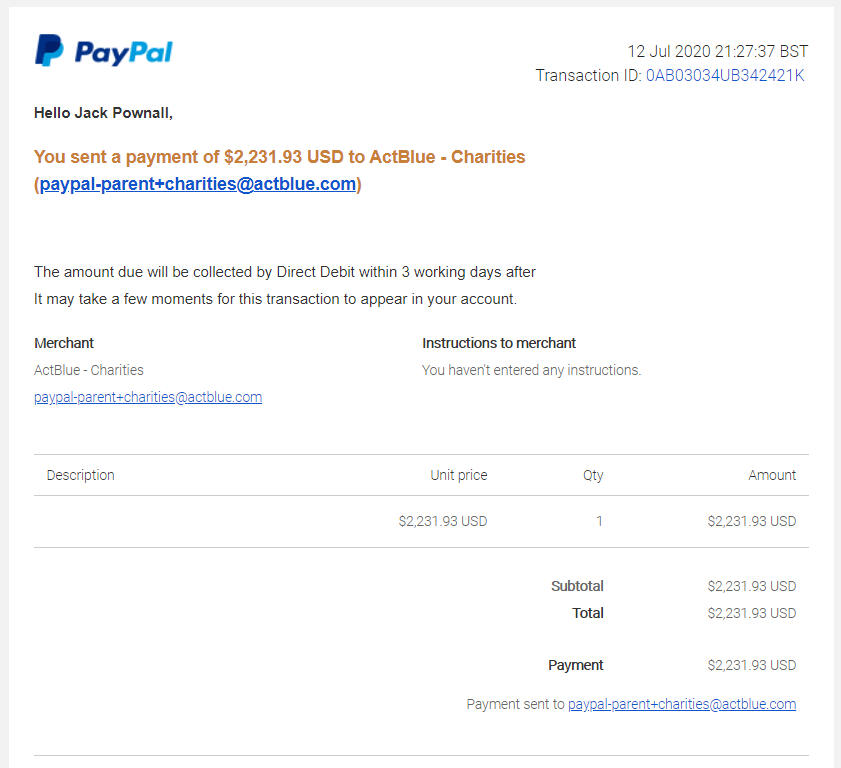 (Black Lives Matter organisation donation made 12 July 2020)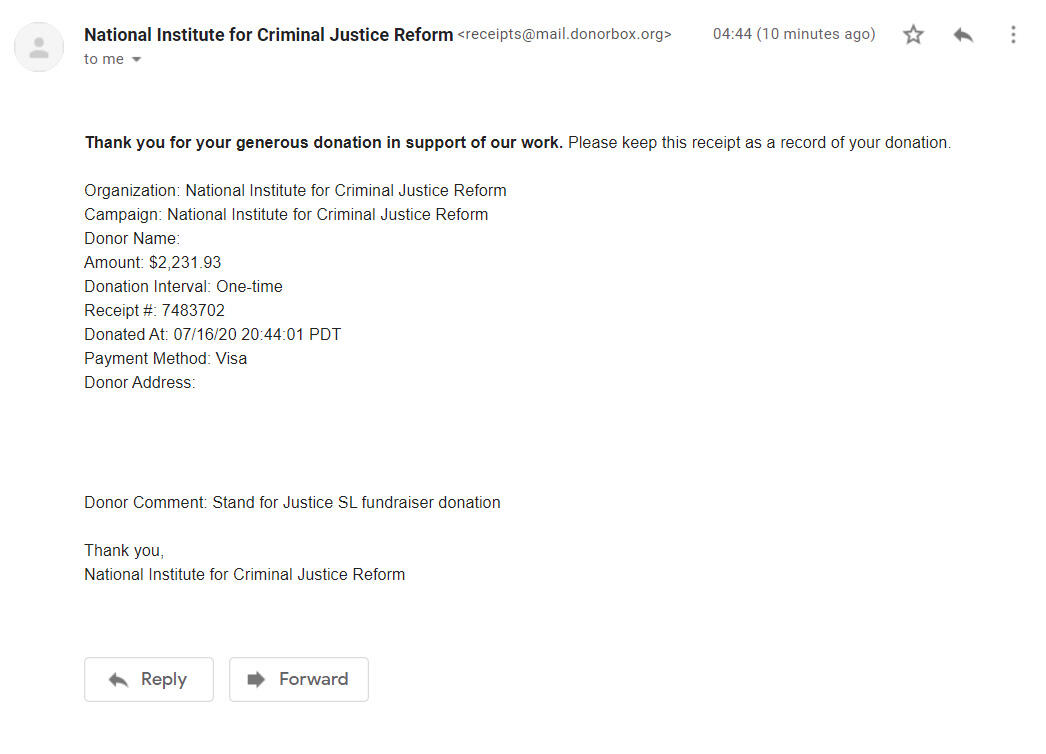 (National Institute for Criminal Justice Reform donation made 16 July 2020)
Having raised a total of $11,159.64 after processing fees, we have now made donations to 4 of the 5 charities as shown in the screenshots above.

Black Visions Collective are now no longer accepting donations and are instead redirecting donators to a Google Doc detailing alternative orgs to donate to.

As a result, we sent out a poll to the Stand For Justice group inworld asking them to choose between several options as to what we should do with the remaining funds. It is as a result of this poll that the remaining funds were donated to the National Institute for Criminal Justice Reform.
---
STAND FOR JUSTICE CONTACTS
OMGWTF BARBECUE (ORGANISER)
JACK NIMBLE (ORGANISER)
STANDFORJUSTICE RESIDENT (FUNDRAISER ACCOUNT)